//
//
Domestic Violence Is An Epidemic
Domestic Violence Is An Epidemic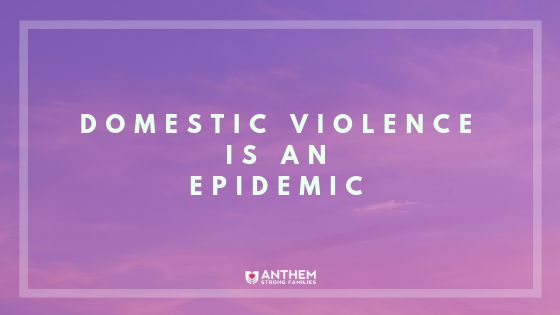 October is Domestic Violence Awareness Month.  At Anthem Strong Families (ASF) we are advocates and champions for families.  We, as a community must be intentional about combating domestic violence and become CHAMPIONS for change.  Everything begins with the strength of the family and domestic violence is one of the many indicators of family brokenness.
Domestic violence destroys the essence of a community by dismantling family units and causing a ripple effect of repercussions that are felt for generations.  Cristina Kreachbaum, Director, Community Outreach, Su Casa Ending Domestic Violence, says, "Children witnessing violence committed against their parent can find it difficult to trust adults in the future. It compromises their attachment to the person that should love and protect them, weakening the family unit. An estimated 3.3 million children are exposed to violence against their mother or a female caretaker. These kids have higher levels of anger, hostility, disobedience, and withdrawal. They have similar health issues as adults: anxiety, sleep disorders, mental health and behavior health issues. One can imagine the effect this has on school performance."
Domestic Violence has become an epidemic in the United States and the statistics are shocking:
In America a woman is assaulted every nine seconds
A domestic or dating violence incident takes place every 24 minutes
Domestic violence costs more than $5 billion in medical and mental health care each year,
An estimated 8 million days of paid work are lost annually
What can you do?  Be aware of the signs of abuse and report it.  Loved ones who may experience DV also exhibit certain behaviors such as:
Sudden changes in their appearance, personality or interests,
Becoming withdrawn
Avoiding eye contact
Physical bruises can indicate that someone may be in an unhealthy and abusive relationship.
Frequently being absent from school or work
Exhibiting a sudden fear of conflict
Frequently accepting blame for arguments or other situations at home or work
Anthem Strong Families offers a mini clinic for both survivors and perpetrators of domestic violence.  If you or someone you know needs help please visit our website at www.anthemstrongfamilies.org or call the National Domestic Violence Hotline at 1-800-799-7233 for more information.