//
//
TYRO Champion Dad Program is CHANGING LIVES
TYRO Champion Dad Program is CHANGING LIVES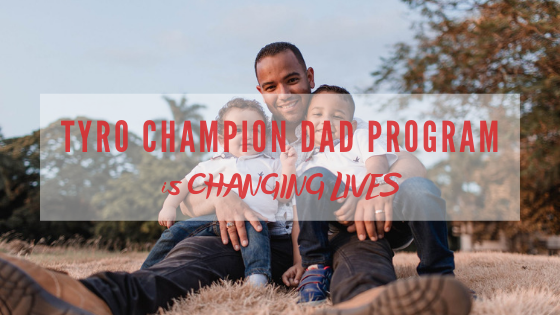 Anthem Strong Families' TYRO CHAMPION DAD PROGRAM is one of the most integrated fatherhood initiatives in the State of Texas.  
The program restores lives, reconnects fathers with their children and empowers fathers to be their absolute BEST for their children and families.  To be CHAMPIONS.  Graduates from the program become TYROS– a Latin word which means apprentice or warrior.
The 90-day evidenced-based intensive process includes 1-year of rigorous case management, mentoring and ongoing support services as needed.  Men and women learn to move from a survival mentality and poverty mindset to one of achievement and success while embracing self-efficacy and executive function. Class activities help participants to recognize bad choices and change underlying assumptions, beliefs, attitudes and thinking patterns that have had negative consequences for themselves and their families.   At the end of the program the goal is for participants to have living-wage jobs with ongoing resources to help them to continue to succeed.
The TYRO CHAMPION DAD PROGRAM provides:
Rigorous, integrated case management
Mentoring for 1-year
Individualized Life/Work Plan
Anger Management
Bootcamp for new dads
Parenting, marital and pre-marital assistance
Financial literacy
Child support assistance
Mental health resources
Extensive evaluation
TYRO Jon Carrera spent more than 7 years in federal prison.  He says when he was first released his kids were performing poorly in school.  Now they are soaring.  "Being a TYRO is like being a part of an extended family – I know they care.  And, through the rigorous case management and mentoring they've been with me through the tough times of trying to find my rhythm after being incarcerated.  I know my identity is not tied to my brokenness," Carrera says.
For more information on the program contact 214-426-0900 or register here.