//
//
What does it mean to be a CHAMPION?
What does it mean to be a CHAMPION?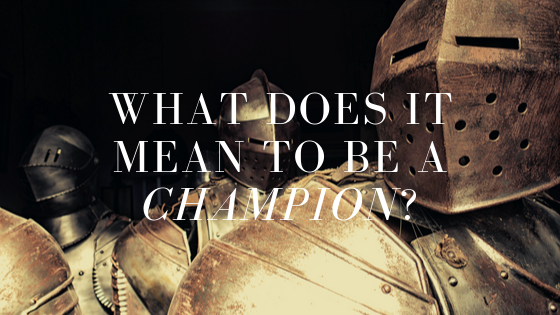 Many times, when we think of CHAMPIONS we think of sports figures.  For instance, Mohammed Ali is considered the greatest boxer in history.  We may be reminded of the Super Bowl and the World Series or the greatest hockey and soccer players. Yogi Berra of the New York Yankees won 10 World Series; Bill Russell won 11 NBA Championships with the Boston Celtics and Henri Richard of the Montreal Canadians won 11 NHL Stanley Cups.  But, what about being a CHAMPION Family or a CHAMPION Mom or Dad or CHAMPION in the community?
On November 14, at the FAIR PARK HALL OF HEROES Anthem Strong Families will honor individuals, businesses and corporations who are CHAMPIONING families, and like us, fighting for families by implementing game-changing policies, services and programs that are transforming lives and communities.
These individuals and corporations are Dallas/Fort Worth CHAMPIONS
THE PALADIN AWARD: Richie Butler, Pastor, St. Paul United Methodist Church. Nominated for founding PROJECT UNITY.
THE WARRIOR AWARD: Dr. Daniel Guzman, Trauma Surgeon, COOK CHILDREN'S. Nominated for the commitment to reducing child firearm-related deaths.
THE GUARDIAN AWARD: The Honorable Judge Lela D. Mays. Nominated for offering defendants a second chance and her tireless work in the restorative justice arena.
THE HERO AWARD: Texas Capital Bank. Nominated for an unrelenting commitment to eradicating hunger, providing and supporting literacy programs, and helping communities as well as families to grow and prosper.
THE HERO AWARD: Jorge Baldor, Executive Director, Latino Center for Leadership and founder, After8toEducate. Nominated for visionary leadership by supporting high school students overcome the obstacles of homelessness.
THE GLADIATOR FAMILY AWARD. Dr. Field and Sabrina Harrison, Founders, MINT DENTISTRY. Nominated for working faithfully to provide opportunities to families who otherwise cannot provide for themselves.
During interviews of these tireless Dallas/Fort Worth leaders several common threads were revealed from them about what it means to be a champion.
Champions never give up.
Champions have courage and risk failure, knowing that setbacks are lessons to learn from.
Champions have self-mastery.
Champions strive for life-balance.
Champions have vision.
Champions say, "I can, and I will."
Champions surround themselves with great people.
Champions demonstrate courage, determination, persistence, and perseverance.
Champions embrace adversity as opportunities.